---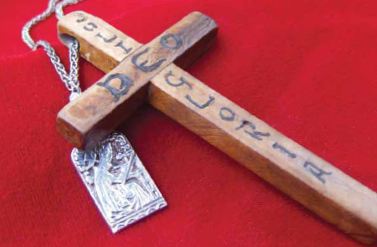 The First Forty Years of
the Brotherhood of Saint Gregory
Karekin Madteos Yarian BSG
Before there was the "New Monasticism" there was the Brotherhood of Saint Gregory. This first authorized history of the groundbreaking Episcopal religious community known as the Gregorians, explores the growth of a budding community coming of age. Chronicling the history of the Brotherhood from the turbulent sixties through its first forty years, In Love and Service Bound offers a personal glimpse into the struggles, successes and personalities that helped guide the community in its unique expression and renewal of the face of religious life in the Episcopal Church. Detailing the vision and character of its founder and first Minister General, Richard Thomas Biernacki, this book offers an honest appraisal of the pivotal moments and inner workings of a community striving to live out the Gospel in the midst of an often skeptical church and world.
---
Br. Karekin Madteos Yarian's history of the Brotherhood of Saint Gregory is an insightful, lucid exposition of one of our precious religious communities within the Anglican Communion and the Episcopal Church. The religious within the Episcopal Church are incalculable sources of spiritual depth for our clergy and laity, and within that universe the Brotherhood of Saint Gregory has a peculiar (to use the word in its archaic and positive sense) place, not well known or understood. This book opens up the nature of the Brotherhood's charism, and will serve to connect the Brotherhood more firmly with the Church it loves and serves.
— The Rt. Rev. Marc H. Andrus
Bishop of the Episcopal Diocese of California

What is a brotherhood? What is obedience? What is prayer? At once a social and a spiritual history, In Love and Service Bound examines the ancient questions of monasticism as they play out in the creation of a new religious order for the postmodern world. Br. Karekin Yarian is not only a skilled writer but an honest one, and his chronicle of the Brotherhood of St. Gregory is full of clear-eyed observations about the way charismatic leadership, church politics, and a deep yearning for service can intersect. For anyone interested in the future of communities of faith, In Love and Service Bound is essential reading.
— Sara Miles, author of Take This Bread
---
Karekin Madteos Yarian lives in San Francisco and has been a member of the Brotherhood of Saint Gregory since 1994 where he has at various times served as Pastoral Care Team Leader, Director of Education, and Minister Provincial for Province 8 of the Brotherhood. He is the author of The Skillfulness of Shepherds and co-author of Equipping the Saints — two volumes currently used in the Brotherhood's formation program; and For the Balance of My Natural Life, a reflection on Life Vows in the Gregorian Way. He is also the subject of the award winning documentary Changing Habits. His website is punkmonksf.com.
Photo of Karekin at Mother of Peace Orphanage, Mutoko Zimbabwe